GE UM12C at Sawankhalok Station –
I was fortunate to be visiting the Sawankhalok Station, in Sawankhalok, Thailand, when a local freight train arrived.
It's not every day you get to watch a 50 year old locomotive do its thing.
When the engineer pulled into the station he stopped the train to wait for some switches to be changed. When he tried to get the train rolling again he had a real struggle getting it moving again. After five minutes or so of coaxing and cajoling he was able to move the train enough to complete the switching of some cars over to a siding to offload their 20′ shipping containers.
All in all, it was a rare treat to see a modern narrow-gauge railroad in operation.
The King of Thailand had this spur line and station built to facilitate pilgrimages to the religious and historical sites at Sukhothai.
There is regular passenger train service to this station.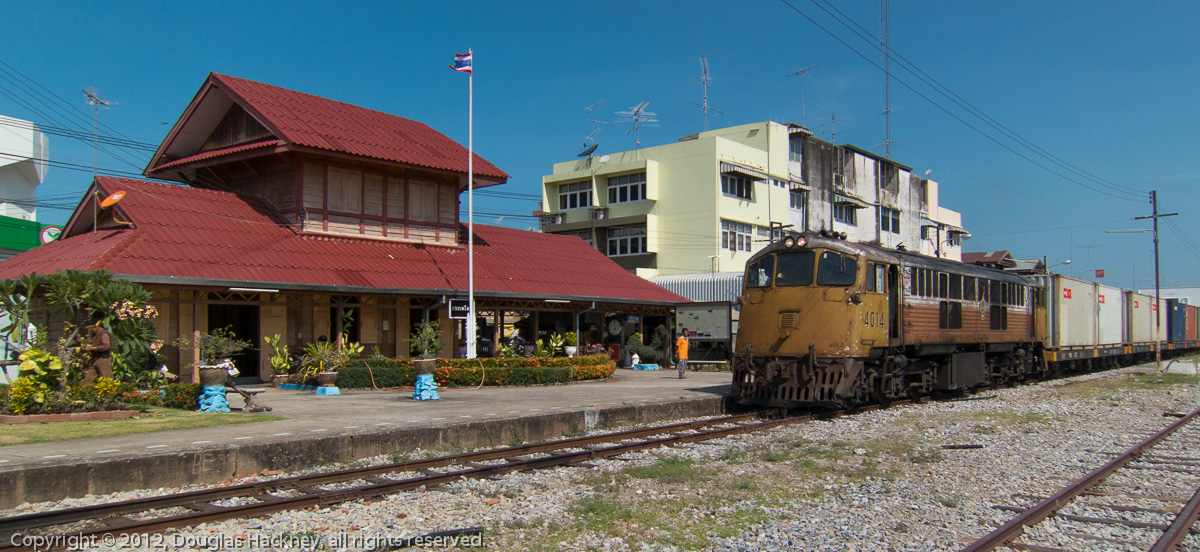 This GE UM12C #4014 was built in the last quarter of 1963 for the Thai National Railway. It was one of 40 identical units delivered in that batch. An additional 10 were produced in 1966. The GE UM12C is powered by two Cummins KT38-L engines producing 1,320 hp (980 kW) each.